History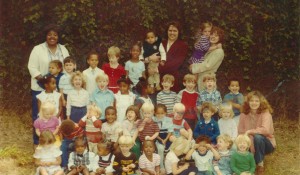 In 1982, Altadena Baptist Church decided to convert an underutilized area of its property, including two bungalows and another small building into a child care center. The congregation's goal was to meet an important community need that would help support families.
Spun out as a separate, nonprofit agency in 1992, the Center is governed by a Board of Directors comprised of community volunteers, parents and alumni parents. The church donates the use of the property under a long-term lease.
Originally licensed for 44 children aged 2 to 5 years, the Center later opened an Infant & Toddler program that serves an additional 16 children. Throughout its history, the Center has been a partner of choice for collaborative ventures with other community agencies addressing the needs of children and families. Altadena Children's Center is still expanding its vision. The Board of Directors, staff, and families feel that there is something unique about ACC that should be shared!